Playing to a full house last Sunday March 28, film director Woody Allen and his regular band showed their jazz repertory, some of which is closely associated with his films. During the concert he declared his love for the Catalan capital, saying: "Barcelona is the best city in the world".
This was the film director's second performance at the iconic Modernista concert hall, Palau de la Música. He was appearing on the Millennium Festival programme, in which he held a distinguished place a few years ago as a clarinettist in the New Orleans Jazz Band.
With a calling card of modest remarks, like "I'm nothing more than an amateur clarinettist", "if I weren't famous, nobody would come to my concerts", "people come more to see me than to hear me", Allen made another appearance before his Barcelona public, fans both of his films and performances.
The Modernista Palau had a put up a notice two days before the concert informing the public that all tickets had sold out for concert featuring the film director, a jazz musician, as he himself admits, with a passion for New Orleans music.
Allen learnt to play the sax soprano when he was thirteen or fourteen, but he later chose the clarinet as he'd always loved New Orleans jazz, especially Sidney Bechet.
While acknowledging that he listens to other kinds of music in his free time, including opera, classical music and modern jazz, and that he also loves songs from Broadway musicals, he reaffirmed his preference for New Orleans music. Source: www.bcn.es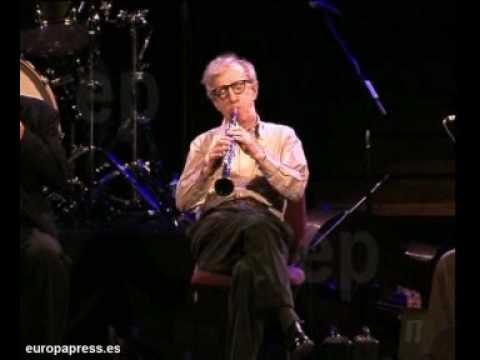 Web de Woody Allen & His New Orleans Jazz Band
 We recently stayed for 2 night at U232 Hotel and enjoyed it very much. The welcome cocktail was a very nice touch and our breakfast was excellent with a variety of choices.  The setting for breakfast and service very nice.
Our room was comfortable, clean and well supplied.  We would recommend this hotel and would not hesitate to revisit again.
By Shannon, March 2010.
This guest reserved our special Art Weekend package in Barcelona!
Daylight saving time (DST; also summer time in British English) is the practice of temporarily advancing clocks so that afternoons have more daylight and mornings have less. Typically clocks are adjusted forward one hour near the start of spring and are adjusted backward in autumn. Modern DST was first proposed in 1895 by George Vernon Hudson.
During this weekend, the night of Saturday 27 to Sunday 28 March, we advance the clocks one hour: at two o'clock will become three, to adapt to daylight saving time. Núñez i Navarro Hotels will be remembered by notices in the reception of our new hotel in downtown Barcelona.
An early goal of DST was to reduce evening usage of incandescent lighting, formerly a primary use of electricity. Although energy conservation remains an important goal, energy usage patterns have greatly changed since then, and recent research is limited and reports contradictory results. Electricity use is greatly affected by geography, climate, and economics, making it hard to generalize from single studies.
We stayed in the Junior suite 19 March 2010. This is beautiful, clean, value for money boutique hotel!  Excellent location.  Rooms are very comfortable and clean.  Though the Front Desk staff are not well versed indicating a good restaurant or breakfast place, rather misleading information apart from that the Bar, internet access made our stay a pleasant one.
Added by Jini, March 2010.
British band Roxy Music will be performing at the next Sonar, thirty years after they last played in the city. Other groups joining the line-up are New Young Pony Club, Cabo San Roque and Aufgang. Find your hotel in Barcelona.
 
Dance pioneers with the song "Angel Eyes", they made synthesisers fashionable, were the precursors of punk and new wave and the standard-bearers of glamour on stage. Roxy Music is a band ahead of their time, which is why they are going to play at Sonar.
Sonar, the advanced music and multimedia art festival, takes place in Barcelona every year during three days in June. Sonar's diverse artistic offer splits between the Sonar by Day activities and Sonar by Night, together with some simultaneous gigs like the performances at L'Auditori.
Together with Roxy Music, Sonar 2010 will also feature The Chemical Brothers, Delorean or The Pinker Tones among others.
Núñez i Navarro Hotels offers you nine hotels in Barcelona, centrally located, next to Sonar by Day venues and well connected to Sonar by Night premises.
More inf@: Sonar 2010 website
The International Association of Athletics Federations Council has agreed that Barcelona will host the 14th IAAF World Junior Athletics Championships in 2012.
The decision was taken the last Monday 15th March 2010, in the city of Doha (Qatar), where Barcelona was also chosen as the venue for its centenary celebrations.
Barcelona's Mayor, Jordi Hereu, announced that "thanks to this new nomination, Barcelona is continuing to consolidate its status as an international sports event capital, showing once again its organisational capacities and the popular enthusiasm such events arouse".
The junior athletics championships feature athletes under the age of 20 (born on or after 1993 in the case of the 2012 championships) and have been held biennially since the first in Athens in 1986.
Over 2.000 athletes will be taking part in the teams making up the delegations from over 180 IAAF members. There are 44 events with medals.
Furthermore, next July will see Barcelona play host to the European Athletics Championship.
From March 2010, more than 20 street pianos will be distributed across the streets of Barcelona for the International Music Competition Maria Canals. Located in public parks, streets and squares, the pianos are for any member of the public to play, to personalise and to enjoy.
Touring internationally since 2008, "Play Me, I'm Yours" is an artwork by artist Luke Jerram.
The Maria Canals Music International Contest was the first music contest in Spain and is one of the most prestigous all over the world. The Contest will be on from March 13th to March 26th in El Palau de la Música and will organize more than 50 concerts all around Barecelona within the framework of the Off Contest 2010.
For another year, Barcelona is taking part in World Brain Awareness Week (from 15th to 22nd March), which is being celebrated in over 72 countries, with all kinds of activities to educate all sections of the public about the efforts being made in the study of the human brain.
The programme includes activities aimed not just at the general public but at education centres too, and will feature talks, demonstrations, round tables and shows.
These will deal with topics such as musical genes, the effects of cannabis, robotic brains, conscience and the mind, and neuroeconomics.
We are gaining an increasingly precise understanding of the brain's processes and the scientific research being conducted will bring us new discoveries that would have been unimaginable only a few years ago.
According to renowned neurobiologists, we are going to see new forms of treatment in the next few years, as well as advances in our knowledge of key aspects such as conscience, morality, intelligence and the building of beauty.
Take part in World Brain Awareness Week and discover some of the keys – still largely unknown to the general public – to understanding how the brain works.
The Maria Canals International Music Competition of Barcelona was founded in 1954 by the pianist Maria Canals and her husband, the writer Rossend Llates. This Competition has achieved international prestige since it was accepted by the World Federation of International Music Competitions in 1958.
It is held at the Palau de la Música Catalana in Barcelona, being endorsed by the World Federation of Music Competitions for the organization of the branches of piano, violin, singing, cello, chamber music, guitar, percussion and flute. Since 1954, the Competition has held over 110 branches, with over 7.000 participants from 100 countries and 180 jury members from all over the world.
The 56th Barcelona Maria Canals International Music Competition will bring together 91 pianists from 26 countries between 13 and 26 March. At the same time, the Off-Competition will be taking piano music to the public.
Maria Canals Competition wants to take advantage of the presence of so many prestigious pianists in the city to take piano music out to the public. More than fifty pianos will be spread around the city so everyone who wants to can play the piano in some very unusual places.
Green spaces, squares and streets will provide the setting for concerts aimed at everyone, children and adults, professionals and amateurs, with grand pianos installed so the participants in the competition can take their art to every corner of the city. Rambla del Raval, Plaça de Sarrià, Can Brians prison and the Line 2 metro station lobby in Plaça de la Universitat are some of the improvised "concert halls" for these young artists.
We stayed prior to an NCL cruise. When we arrived early, our room was ready for us! From the minute we stepped into the Barcelona Hotel 1898, we were treated professionally and friendly. The room was very clean, quiet, bedding comfortable, amenities excellent, and location, location, location. We are very happy to have stayed at the Hotel 1898 prior to this cruise. Our last cruise leaving out of Barcelona, we stayed at the Hotel Montecarlo just across the street. That hotel in our opinion did not come even close to the Hotel 1898. All future stays in Barcelona will be at the Hotel 1898! A good value for a tremendous hotel.
Experience written by catcrazy, March 2010.