Un séjour superbe dans l'H1898. Du déjeuner le matin bon et varié, idéal pour démarrer les promenades dans Barcelone. La Piscine et le spa, faits pour se détendre au retour avant de profiter des nuits dans les petits troquets typiques de Barcelone. Une chambre propre, calme, confortable. Bref, mon seul regrets ? n'être resté que 2 jours ! Mais promis, je reviendrais…
Gérard, March 2011.
Condé Nast Johansens in association with Champagne Taittinger has the pleasure of organize the presentation to launch its new iPad Application and online Award scheme at Hotel 1898, Barcelona on Thursday 31st March.
Agenda:
Presentation of New iPad App: "Sales of the iPad are expected to reach 50.4 million by 2012!"
New Online Awards & Voting
Condé Nast's 2012 Travel Trends
Marketing, Web & Digital Development
Social Networking
Questions & Prizes Draw
Meet Condé Nast team, network with hoteliers and Preferred Partners. Barcelona presentations will start at 11.30am followed by a cocktail lunch.
Condé Nast Johansens is an international mark of distinction. Trusted for over 28 years. A division of Condé Nast Publications, part of the family of monthly glossy magazines including Vogue, Condé Nast Traveller, House & Garden, Brides and GQ.
For the traveller we offer a well known, trusted and reliable resource for finding independently owned hotels, spas and meeting venues. We provide both inspiration and assistance in finding the perfect property from a collection that offers a breadth of variety, design and experience.
The most powerful earthquake to hit Japan in at least 100 years unleashed walls of water that swept across rice fields, engulfing towns, dragging houses onto highways and tossing cars and boats like toys.
BWA Yatching and MB'92 are organising a charity drinks reception to raise money for the Spanish Red Cross working in Japan's disaster-stricken zones. The event will be held at Hotel 1898, Barcelona on March 31st.
BWA Yachting serves over 275 ports and marinas through BWA owned and operated offices worldwide. The primary objective is to support the increasingly complex and demanding role of the captain and crew, allowing them to focus on ensuring that the level of service required by the guests is delivered. BWA Yachting is there from start to finish, from planning to implementation of every aspect of the trip.
MB'92, Marina Barcelona 92, is a company engaged in refit, repair and maintenance of large yachts. It is a unique service located in the port of Barcelona, a strategic location at the crossroads of the route between the Mediterranean and the Caribbean. Their continuous investment effort in advanced shipyard technology, the specialized means serving the yachts and a highly qualified team have made MB′92 the best equipped refit, repair and maintenance superyachts shipyard in the Mediterranean and, possibly, worldwide.
Hotel 1898 offers exclusive suites with private pool and garden, and five different room types, each completely sound-proofed and fitted with cutting-edge design and technologies. The hotel offers seven period ballrooms, five meeting rooms, a café/bar, restaurant and terrace chill-out zone, library, Business Center, and free high-speed wireless internet access. Guests also have access to a fully equipped fitness center, outdoor pool with solarium, and high-end Spa facility.
During the Japan Fundraiser Event, organizators will raffle among donors massages, beauty sessions, restaurant dinners, Barça tickets and many other services and products. People interested on joining the event shall contact with organization in advance, on email addresses: customerservice@mb92.com or spain@bwayachting.com as venue can hold maximum 150 people. Donation of 40€ is required.
Seventeen years after the inauguration of the Barcelona Centre for Contemporary Culture (CCCB), the venue is adding the finishing touches to its extension with the opening of the Teatre CCCB, a product of the revamped Antic Teatre de la Casa de la Caritat.
The new venue, which is connected to the current building by an underground corridor, has two multi-purpose rooms, the Sala Raval, on the first floor with seating capacity for 170 people, and the Sala Teatre, on the second floor, with room for 600 standing spectators and 450 seated spectators.
The rehabilitation work made the most of the remains of earlier buildings, the old theatre designed by Josep Goday in 1912, and the façade of a cloister in the old Casa de la Caritat. It is also equipped with escalators, one of the characteristic features of the CCCB's main building.
It also has a new entrance, at Plaça Joan Coromines, where the new theatre, painted white, invites comparison with another white building, that of the MACBA.
The first activity it is to play host to will be the Kosmopolis literature fest, which starts on Thursday 24 March.
European University Barcelona students visit both Soho Hotel and B-Hotel, part of Núñez i Navarro real estate and hotel group. European University will continue their relationship with nnhotels and has reached an agreement of further cooperation in terms of internships, industrial visits and lectures. During their last visit, they recorded a documentary, and we are very proud to share it with you: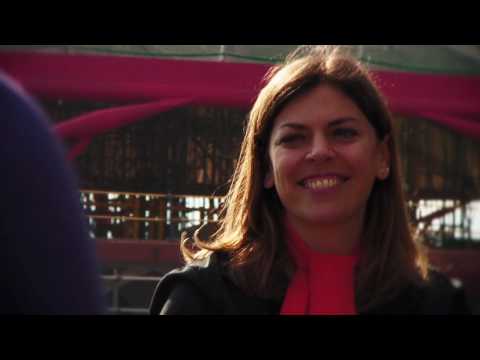 European University Barcelona is an English-speaking business school in Spain that offers flexible business study programs at undergraduate/BBA/Bachelor and graduate/MBA/Master degree levels.
Núñez i Navarro Hotels (nnhotels) offers you nine Barcelona hotels located in city center. All our properties have free wifi internet. Check our packages and promotions and discover Barcelona with us. In summer, our terraces and rooftop pools offer you unbeatable views of Barcelona.
This year's Maria Canals International Music Competition takes place at the Palau de la Música Catalana, from 18 March to 1 April, and at several iconic sites, streets and squares in the city.
During this period, some hundred pianists from 27 different countries will be taking part in the competition and offering concerts throughout the city as part of the Maria Canals OFF-Competition.
One of this year's notable novelties is the piano to be played by the finalists for the 57th Competition. It is a new CFX model, a 2.75 metre-long grand piano, which Yamaha has been working on for the last 19 years and which audiences will be able to hear for the first time in Spain during the Maria Canals Competition.
This year marks the first Maria Canals Competition not to be attended by its creator, Maria Canals i Cendrós, who died last July at the ripe old age of 96. This year's competition is therefore aiming to pay a special tribute to its creator through an exhibition entitled A life in Music and a tribute event at the Palau de la Música.
This programme will kick off at Plaza Reial, where on Friday 18 March, OFF Maria Canals has organised a twelve-hour marathon in collaboration with the La Reial ens mou association.
Dear all,
Thank you all for such a amazing stay at your hotel,it was perfect from the start to the finish.
Its was my husbands 50th and the time was well spent in your wonderful city!
Best reguards
sue mcintosh, March 2011.
Winter is ending and spring is about to be sprung. Thanks to the arrival of good weather, during this season it's much easier to feel like going out and doing activities in the great outdoors.
This makes it an ideal occasion to make the most of the free activities, open to all, organised by the urban hiking group Barnatresc, with the exercise offering benefits for your health.
Indeed, hiking is a great way to improve people's health and foster sporting spirit and culture, since walking is the most natural activity for the human body and is one that is highly accessible for people of all ages.
Plus, whilst it can be enjoyed in its traditional setting, in the heart of nature, in its urban form it is ideal for people who have neither the time nor the means to go walking far from the city.
The next urban hikes on the calendar are the Olympic Route, on 20 April, the walk from the River Besòs to the River Llobregat, on 17 April, and the Gràcia walk, on 15 May.
We stayed in Hotel Barcelona Universal for two nights. We were three couples stayig in three rooms and all of us were impressed. The rooms were perfectly clean and we really had all the amenities we expected.
For me a good breakfast is very important for a happy start in the morning and I found everything I wanted on the buffet. The staff at the reception was very friendly and helpful, too. If I went to Barcelona again, I'd definitely stay in Hotel Barcelona Universal again.
Experience sent by berndloos, March 2011.
Hello,
We recently stayed at the Hotel Jazz and found it to be an excellent hotel.
The room was extremely clean, comfortable and quiet considering the central location. It was also very safe, since keycards were required to access the elevators.
The staff were always available to help us when required. I would have no hesitation staying here again or recommending it to friends.
Experience posted by Conor King, March 2011.