Dear nn hotels
I recently stayed at your Soho hotel in Barcelona and would like to express to you the pleasure we had in staying at your hotel.
We stayed in 3 different hotels of different price ranges ,in fact yours was probably the least expensive of the 3, but we had such a beautiful service from each of the receptionists, from my first contact with Alessio par telephone , he was a gentleman and most helpful, to being received by him at your hotel.  Over the course of our stay we were looked after by Alexandra and Jonas, both equally helpful, most courteous and very welcoming. And then there was the lovely room! We felt very comfortable enjoyed our stay immensely! Thank you.
Breen, May 2013.
Posizione strategica, a due passi dalla fermata della metro Urguell linea L1, Plaza Catalunya, Plaza Espanya e la Rambla si possono raggiungere anche a piedi. Hotel ultra moderno, stanza pulitissima, cambio asciugamani e prodotti da bagno giornaliero. Meriterebbe una stella in piu'. Colazione internazionale a buffet buona.Personale cortese. Grazie ad Alessio e a tutto personale per la loro gentilezza e disponibilità.
Franco, Dicembre 2012 | Hotel Soho Barcellona
Soho Barcelona, ein Erlebnis !
Wir hatten einen sehr schönen Aufenthalt in diesem Hotel !
Sehr freundliches und hilfsbereites Personal, ein gutes und reichhaltiges Frühstück und ein erstklassiges Zimmer in der siebten Etage !
Wer möchte nicht auch gerne in der Badewanne sitzen und über die Dächer vom Barcelona schauen, etwas träumen und das Ambiente genießen ?
Perfekt, einfach klasse und für die Leistung und die gute Lage auch nicht zu teuer !
Nachteile / der Pool ist nur 90 cm tief und im November leider recht kalt !
Ein Kleiderschrank im Zimmer wäre auch schön, aber bei zwei Tagen Aufenthalt nicht notwendig.
Wir werden, wenn möglich wiederkommen !
Petra, November 2012.
We have raffled our complimentary stay in Barcelona between all the comments posted by our clients. And the winner of a free stay at the Hotel Soho Barcelona in the Eixample and 10 minutes walking from Plaza Catalunya is…
Username: Mluisa for her experience in Barcelona last February during her stay at Hotel Europark of Barcelona.
But we still have more prizes for you… Next drawing will be announced coming soon!!
February 11-15, 2012
My husband and I just came from Barcelona Hotel SoHo and enjoyed it tremendously. The hotel didn't have lots of the extras that some other hotels have (coffee maker in the room/clock in the room) but it was PERFECT!! The staff is amazing and goes above and beyond to help you. The location was excellent. I would recommend this hotel to anyone. I will look for other Hotel SoHos when we travel again. Thanks!
Roly & Sherri, February 2012.
Booked the Soho Barcelona from reading the good reviews on TripAdvisor. Its my 1st trip to Barcelona and Soho exceeded my expectations! Highly recommended and would definitely stay there again when I go back to Barcelona.
Rooms are modern, clean and comfortable. Size is perfect. The staff were also very friendly and helpful with recommendations for sightseeing and food. Location is excellent too, just at the doorstep is the Urgell Metro Station and less than a block from the Airport bus stop. You could also easily walk to Passeig de Gracia and Placa Catalunya.
Breakfast spread is also excellent. The free Wifi is a big plus for me.Cant really think of a bad thing to say actually. 2 thumbs up!
Melvin, February 2012.
As we announced yesterday, we have a new draw available. On this occasion, the winners will enjoy a free stay at the Hotel Soho Barcelona. Located in the Eixample's neighborhood of Barcelona, ​this is a modern and vanguardist hotel design.
The draw will take place from all the comments received from today until March 31, 2012.
The prize consists of:
A two nights stay in at Hotel Soho Barcelona with breakfast included.
Bottle of Cava.
To be used between: from April 01 to June 30, 2012 (Subject to Availability).
No changes can be made once the reservation has been confirmed.
The prize can not be used in conjunction with other item or goods.
The prize can not be exchanged for any other item or goods.
The prize is personal and non-transferable.
Only people who have already stayed in one of our nine hotels and post a review on the blog are eligible for the prize. Winners will be advised via e-mail and their name and surname will be published on the blog.
If you have any queries, please send a message to the following address: newsletter@nnhotels.com
Good luck to all participants!
European University Barcelona students visit both Soho Hotel and B-Hotel, part of Núñez i Navarro real estate and hotel group. European University will continue their relationship with nnhotels and has reached an agreement of further cooperation in terms of internships, industrial visits and lectures. During their last visit, they recorded a documentary, and we are very proud to share it with you: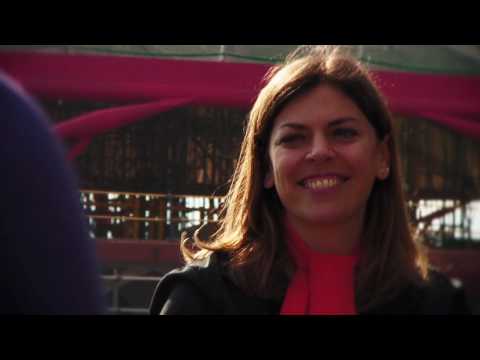 European University Barcelona is an English-speaking business school in Spain that offers flexible business study programs at undergraduate/BBA/Bachelor and graduate/MBA/Master degree levels.
Núñez i Navarro Hotels (nnhotels) offers you nine Barcelona hotels located in city center. All our properties have free wifi internet. Check our packages and promotions and discover Barcelona with us. In summer, our terraces and rooftop pools offer you unbeatable views of Barcelona.