The 7th programme of classical music concerts at the Palau Robert in Barcelona begun on 29th January 2009.
This is an innovative programme that gives the public the opportunity to listen to established professional musicians playing a varied repertory which is not often heard in concert halls and auditoriums.
The programme will last until 20 May and consists of six concerts. Apart from the Albada Quartet, the list of participating musicians includes the harpsichord player Heidi Tsai interpreting The Goldberg Variations by Johann Sebastian Bach (12 February); the cello player Lluís Claret accompanied by the cello ensemble Violoncel•listes de Barcelona (4 March); the organist Montserrat Torrent and the harpsichord player Maria Lluïsa Cortada playing works by Father Antoni Soler and Joan Cabanilles (18 March); the pianists Alfredo Armero and Akiko Nomoto, interpreting the two volumes of Goyescas by Enric Granados (15 April); and the vocal group Musica Reservata playing a concert made up of polyphonic works from the European and Spanish Renaissance (20 May).
This programme will be followed in 2009 by the programme of summer concerts. The proceeds from the summer programme will also be sent to the Aids and Society Foundation, an organisation which works in the area of public health and international cooperation.
More inf@: www.20gencat.cat – Source: Palau Robert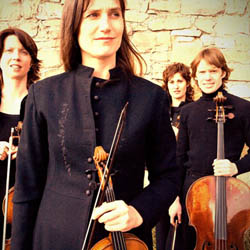 NN Hotels: www.nnhotels.com